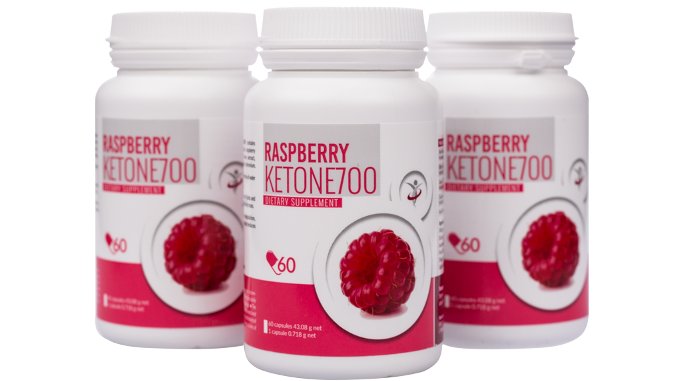 This description has been derived from the manufacturer's / distributor's website.
Raspberry Ketone 700 is een voedingssupplement voor wie voor eens en altijd wil afrekenen met die overtollige kilo's en overtollig vet wil verbranden. Het product bevat framboos-, zure sinaasappel-, groene thee-, guaranazaad- en açaibesextract. De actieve bestanddelen van natuurlijke oorsprong zorgen ervoor dat het preparaat volledig veilig en doeltreffend is.
Framboosketonen zijn natuurlijk voorkomende plantaardige polyfenolen die verantwoordelijk zijn voor de karakteristieke smaak en geur van frambozen. Wetenschappers hebben ontdekt dat ketonen op doeltreffende wijze de vetweefselverbranding door een proces van thermogenese. Hun werking is voornamelijk gebaseerd op de verhoging van het adiponectinegehalte – een hormoon dat in het organisme verantwoordelijk is voor het glucosepeil en het metabolisme. Bovendien verhoogt RaspberryKetone700 de weerstand en vermindert het de vermoeidheid.
Frambozen hebben een ontstekings- en koortswerende werking, bevatten vitamines B, C en E, welke de weerstand verhogen. Het is bewezen dat polyfenolen in framboos de verouderingsprocessen en een gunstige invloed hebben op de huid. Bovendien reduceren ze het cholesterolpeil en zodoende het risico op arteriosclerose.
Raspberry Ketone 700 – Ingrediënten
Recommended intake of this supplement: 2 capsule, daily (adults).

Dieetsupplementen vergelijkbaar met Raspberry Ketone 700
The Raspberry Ketone 700 dietary supplement is available in Netherlands and many others countries around the world. In Netherlands this supplement contains: Acai Berry, Bitter Orange, Caffeine, Green Tea, Guarana Seed, Raspberry, Raspberry Ketone and Synephrine in its composition.
Detailed descriptions of the ingredients included in the Raspberry Ketone 700 dietary supplement:
Search Your Country