What are the properties of GABA in supplements?
The supplements containing GABA
---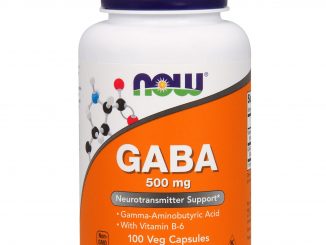 GABA, 500 mg, 100 Veg Capsules (Now Foods) contains GABA.
GABA (Gamma-Aminobutyric Acid) is a non-protein amino acid that functions as a neurotransmitter in the human brain. GABA is naturally produced in the body and its presence within the central nervous system may help promote relaxation and ease nervous tension.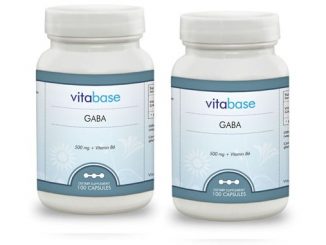 Vitabase – GABA (500 mg) contains GABA.
Gamma Aminobutyric Acid (GABA) is found in high concentration in the eyes and brain as a non-essential amino acid. The brain is able to produce GABA, but because of environmental or health reasons, levels can drop as we age. Vitabase GABA works to support cellular function especially in the brain,...
If you know of any other quality supplement that has not been yet classified by us, please contact us and we will gladly consider adding it to our catalogue.
GABA - References & External links
GABA (
Gamma-Aminobutyric Acid

)
TBS Ingredient ID (TBSI ID):
IS4B12C0
Name
Molecular Formula:
GABA


Synonyms:

4-Aminobutyric Acid

,

4-Aminobutanoic Acid

,

Piperidic Acid

,

Piperidinic Acid

,

Aminalon

,

Gaballon

,

Gammalon

,

Mielogen

,

Gamarex

,

Gammasol

,

Gammar

,

Reanal

,

Immu-G

,

Molgramostim

C4H9NO2
Classification Type
Identifier
PubChem CID:
U.S. National Library of Medicine (PubChem)
119
InChI Key:
International Chemical Identifier hash (InChIKey) computed from chemical structure using the International Union of Pure and Applied Chemistry (IUPAC) standard

BTCSSZJGUNDROE-UHFFFAOYSA-N

CAS:
A proprietary registry number assigned by the Chemical Abstracts Service (CAS) division of the American Chemical Society (ACS)

56-12-2

NIST:
The National Institute of Standards and Technology (NIST)
56-12-2
ChemIDplus:
United States National Library of Medicine - TOXNET (Toxicology Data Network).
56-12-2
EC Number:
A seven-digit regulatory identifier currently assigned by the European Chemicals Agency (ECHA) known as a European Community (EC) number

200-258-6

ATC code:
WHO ATC Classification System. The Anatomical Therapeutic Chemical (ATC) Classification System is used for the classification of drugs. This pharmaceutical coding system divides drugs into different groups according to the organ or system on which they act and/or their therapeutic and chemical characteristics
L03AA03
KEGG:
Kyoto Encyclopedia of Genes and Genomes (KEGG)
D00058
UNII:
FDA Substance Registration System - Unique Ingredient Identifier
2ACZ6IPC6I
The references to scientific articles about GABA are not meant to imply that any products treat, cure, or diagnose any disease or human condition. We encourage our audience to do their own research beyond the resources we have provided so your decision is as educated as possible.
The general properties of GABA:
The properties of GABA for people active in sport: