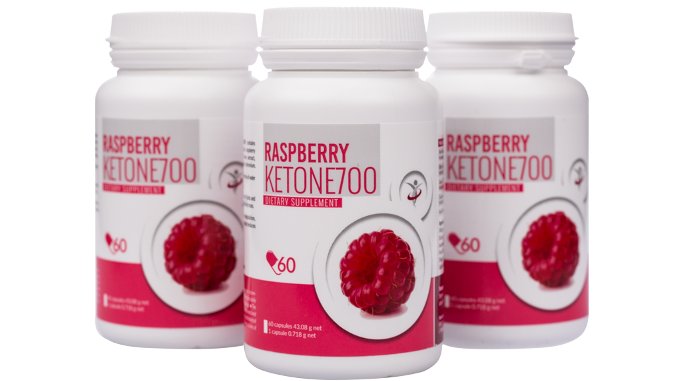 This description has been derived from the manufacturer's / distributor's website.
Raspberry Ketone 700 est un complément alimentaire pour les personnes qui veulent une fois pour toutes, traiter les kilos excédentaires et brûler la graisse résiduelle. Le produit contient des extraits de l'orange amère de fruits, framboise, fruits, feuilles de thé vert, guarana semences et fruit d'acai . Les ingrédients actifs d'origine naturelle en font, qu'il est totalement sûr et efficace.
Les cétones de framboise ces sont les polyphénols végétaux naturels, qui sont responsables pour le goût distinctif et l'arôme de fruits framboise. Les chercheurs ont constaté que les cétones peuvent accélérer efficacement la combustion des graisses grâce à un processus de la thermogenèse. Leur action est basée principalement sur le taux d'adiponectine – une hormone dans l'organisme responsable de la concentration de glucose et le processusde métabolisme. En outre, RaspberryKetone700 renforce l'immunité et réduit la fatigue.
Les fruits de framboise sont anti-inflammatoires et antipyrétiques, contiennent des vitamines B, C et E – renforcement du système immunitaire. Il a été prouvé que les polyphénols contenus dans les framboises retardent le processus de vieillissement et influent favorablement sur la peau. Un plus de ce supplément est également la réduction du cholestérol, réduisant ainsi le risque de l'athérosclérose.
Raspberry Ketone 700 – Ingrédients
Recommended intake of this supplement: 2 capsule, daily (adults).

Compléments alimentaires similaires à Raspberry Ketone 700
The Raspberry Ketone 700 dietary supplement is available in France and many others countries around the world. In France this supplement contains: Acai Berry, Bitter Orange, Caffeine, Green Tea, Guarana Seed, Raspberry, Raspberry Ketone and Synephrine in its composition.
Detailed descriptions of the ingredients included in the Raspberry Ketone 700 dietary supplement:
Search Your Country