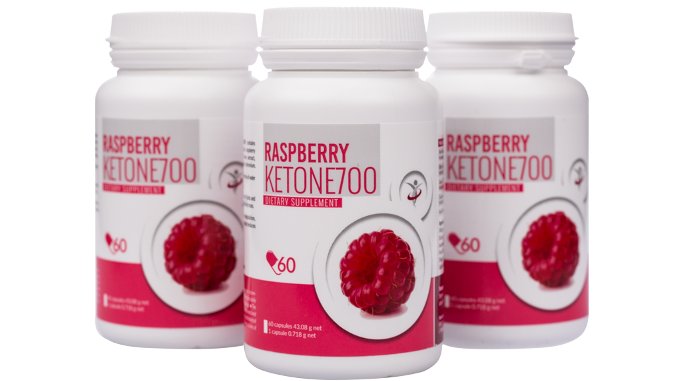 This description has been derived from the manufacturer's / distributor's website.
Raspberry Ketone 700 es un suplemento de dieta para las personas que quieran deshacerse del sobrepeso y quemar la grasa acumulada de una vez por todas. El producto contiene extractos de frutas de frambueso, frutas de naranjo amargo, hojas de té verde, semillas de guaraná y frutas de acai. Gracias a los ingredientes activos de origen natural, el preparado es totalmente seguro y eficaz.
La cetona de frambuesa son polifenoles vegetales que son responsables del sabor y olor característicos de las frutas de frambueso. Los científicos descubrieron que la cetona es capaz de acelerar eficazmente la quema de la grasa corporal mediante el proceso de termogénesis. Su efecto consiste principalmente en incrementar la concentración de adiponectina, una hormona que es responsable del nivel de glucosa y los procesos metabólicos en el organismo. RaspberryKetone700 también refuerza la inmunidad y disminuye la sensación de fatiga.
Las frambuesas tienen propiedades antiflogísticas y antipiréticas, contienen vitaminas de los grupos B, C y E que refuerzan el sistema inmunológico. Se ha demostrado que los polifenoles incluidos en las frambuesas retrasan el proceso de envejecimiento e influyen de modo beneficioso en la piel. Su ventaja adicional es la reducción del colesterol y, además, la disminución del riesgo de aterosclerosis.
Raspberry Ketone 700 – Ingredientes
Recommended intake of this supplement: 2 capsule, daily (adults).

Suplementos dietéticos similares a Raspberry Ketone 700
The Raspberry Ketone 700 dietary supplement is available in Chile and many others countries around the world. In Chile this supplement contains: Acai Berry, Bitter Orange, Caffeine, Green Tea, Guarana Seed, Raspberry, Raspberry Ketone and Synephrine in its composition.
Detailed descriptions of the ingredients included in the Raspberry Ketone 700 dietary supplement:
Search Your Country